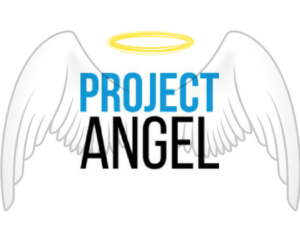 What is Project Angel?
People can become homeless for many reasons and the effects can be very devastating.  
Project Angel is a more recent program of U Turn Lives focused on creating long-term, sustainable solutions that help people escape the cycle of poverty instead of staying reliant on assistance. Through several different programs, we help those who are on the verge of becoming homeless or those that just need a boost to escape the vicious conditions. For example:
We help people by acting as a liaison to employment assistance programs and other job opportunities.
We also provide the tools people may need to keep a job they may already have, whether it's helping with transportation, a loan, or just emotional and psychological support.
This program is uniquely designed to make sure people have the opportunities and support they need to end their dependence on assistance and live their lives independently.
The Story Behind Our Name…
During our Saturday morning brown-bag distributions, a wide-eyed little boy would get back in the line several times wanting more "brown bags." He desperately needed them for himself and his siblings for snacks during school breaks. We offered help to the boy and his family by providing them with essential groceries, food, school books and other necessary items for a few months. Even though this little boy had a language barrier, he still found a way to implore us to assist his father, who was unable to find work. But before we were able to help his father, the family got lost in the shuffle when the city decided to move the homeless into shelters. We named our program Project Angel in honor of this courageous boy, who never gave up faith.
---
Turning Around Lives: Success Stories of Project Angel
Story of "Paul"
Paul was a desperate man who had recently been out of a job and was unable to sustain a decent lifestyle.  His own recount of his recovery in a fundraising event:
"My name is Paul. I used to live in Laguna Niguel. My family car was a BMW. At a time I had more than three jobs, and I was making good money. Then my wife died of a brain tumor and my kid got married.  In year 2008 I found myself on the street,  and I had like probably 2,000 dollars in the bank left, then I, I saw myself in the "LINE" with the homeless in Civic Center, Santa Ana. I was starving. I have had too much trouble. Nobody will help you, nobody will give you blanket, or will tell you what to do. And then I met this group, they are called U-Turn Lives they started giving me work at their houses. You know, like painting, fixing things … and started recommending me to others. They helped me with the money to recover my driver license, which was like 1500 dollars. Then they got me a very good vehicle. It was a Honda Odyssey in perfect running condition. I couldn't believe it and it was given to me for free. This U-Turn Lives helped me out really a lot. That's the reason I'm here right now. I really appreciate what they've done for me. So U- Turn Lives, they really turned around lives. Thank you!!"
Story of "Dev"
Dev was a chef in LA, leading a successful life, but alcoholism robbed him of his family and his job leaving him with despair. When he got connected with U Turn Lives, we discovered that he was in desperate need of psychological support. He was offered all the support needed including the treatment for his addiction and was donated a car for transportation. He got back on his feet and currently is a grateful volunteer and donor to this organization.
Story of "Linh"
"Linh" was a successful real estate agent and an American citizen that lost all her wealth during the real estate market crash and recession. She ended up in homeless shelters when she lost her papers and was feeling desolate. She wanted to go back to Vietnam. When she got in touch with U Turn Lives, she was given all the assistance to get her immigration papers. We provided financial assistance to buy her flight tickets along with another religious organization. U Turn lives was with her every step of the way –even arranged for her Taxi to rush her to the airport when she nearly missed her flight as she was thinking that the flight was the next day!!
Story of "Mary"- a single mom
"Mary" A hard working single mom was trying to go to school while working to have ends meet. She was referred to U Turn Lives by a pastor from a local church. We rushed to her need right away and found a car that could be donated to her, so she can attend school at UCLA!!
Story of "Rodriguez"
Rodriguez had been working very hard to support his family of wife and two children. The family suddenly faced a lots of financial challenges in life when he was diagnosed with cancer. Daily activities became a huge challenge with their aging car breaking down, and the kids often couldn't make it to school on time. The family was referred to U Turn Lives, and we found a kind donor right away that gave them a used but reliable car to take care of one their immediate needs.
Note:  Fictional names are used to protect the identities of individuals.